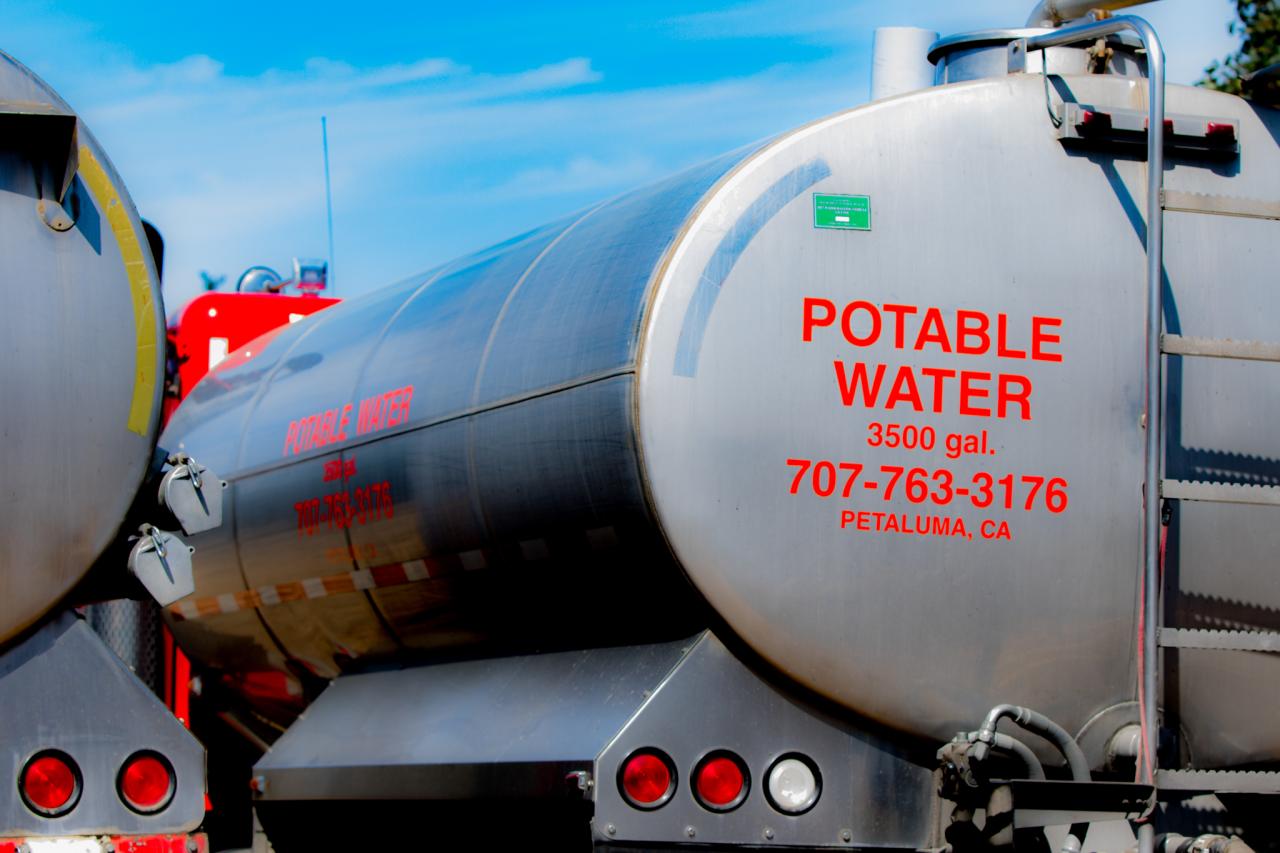 Additional Information
When contacting us for delivery let us know:
How much water do you need?
How urgent is the delivery?
What is the delivery address?
Where is the delivery site located?
What kind of access is there to the delivery site?
What is the size or capacity of the receptacle being filled?
What size/type of fill connection does the receptacle have?
Q: WHAT IS THE FASTEST WAY TO ORDER WATER?
A: The best and fastest way to order water is to call Pardini Water Trucks at (707) 763-3176.
Q: WHAT IF IT'S AFTER OFFICE HOURS/HOLIDAY/WEEKEND AND I NEED WATER?
A: You can contact our emergency number 707-753-0695.
Q: WHAT ARE YOUR HOURS OF OPERATION?
A: Standard Deliveries are Monday through Friday, 7:30am – 4:30pm.
**We also provide weekend, after hours and holiday deliveries for an additional charge.
Q: HOW MUCH WATER DO YOU DELIVER?
A: Our stainless steel tanks carry 3500 gallons.
Q: WHAT IS POTABLE WATER?
Pardini Water Trucks PO Box 2565 Petaluma, CA 94953
A: Potable water is also known as improved drinking water. This means that the water that is safe to drink or to use for food preparation, without risk of health problems. Be assured you are getting the best water available. Our clean water is delivered from municipal water systems in your area.
Q: WHAT IS A "STANDARD DELIVERY"?
A: A standard delivery applies when we can position the truck within 100' of where you want the water delivered and we are able to unload at full pressure and volume. The base delivery fee is for a "Standard Delivery". We can provide a quote for longer hose runs and multiple tanks to be filled.
Q: HOW DO WE DETERMINE OUR DELIVERY RATES?
A: Our rates are based on the delivery destination and water source price.
**Additional charges may arise for weekends, holidays, after hours, extra hose, extra time & standby. This varies per situation.
Q: HOW QUICKLY CAN YOU DELIVER?
A: Depending upon where you are located, delivery normally occurs within 24 hours of order placement. Under special circumstances, we can ensure your water is delivered much sooner. For next day delivery please order by 6 pm night before. You can leave a message as the voicemail is checked nightly.
Q: HOW DO YOU ACCEPT PAYMENT?
A: We accept Cash, Check, Visa, MasterCard, American Express & Discover cards.
**If you wish to make payment by credit card, please call the office at 707-763-3176.
Q: ARE YOU LICENSED?
A: Yes, we are certified annually by the State of California, Department of Public Health Food and Drug Branch. License #84285 & 77778. We are also in compliance with the California Environmental Protection Agency Air Resources Board and Alcohol & Drug Testing for all drivers.
Q: DO YOU BRING YOUR OWN LADDER TO ACCESS TOP LATCH TANKS?
A: No, we don't have room to haul a ladder on our truck. You will need to provide a stable ladder at time of delivery.